A COWBOY IS A CATTLE GUARD: ROADSIDE HUMOR OF SOUTHWESTERN NEW MEXICO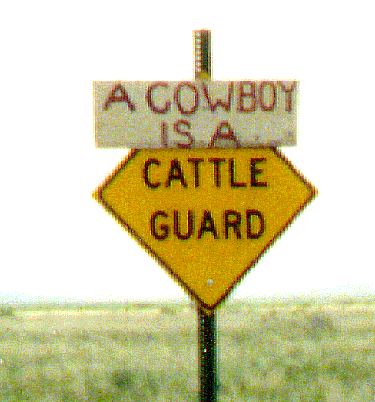 By
Michelle Behr and Neal W. Ackerly
Rural areas across America have long-standing traditions of swapping insults, pithy sayings, and pointed comments. Much of this humor is designed, at least in part, to prompt a gentle (or raucous) laugh and to identify insiders and outsiders. This tradition certainly holds in the American Southwest where cowboys have long held forth on all manner of issues. On a small, secondary road in rural Hidalgo County, New Mexico, a number of government-issue road signs have been modified to taste by local residents. Unlike the mass market appeals of other examples of highway humor, these signs are on (literally) a road to nowhere, dead-ending at the U.S.-Mexico border. These humorous alterations reflect local culture and conditions and, given the paucity of traffic on this road, are almost certainly intended for the amusement of local residents.
See NATIONAL GEOGRAPHIC, DECEMBER 1997,GEOGRAPHICA FOR MORE PHOTOGRAPHS
See NEW MEXICO MAGAZINE, JANUARY 1998, "Bootheel Humor" FOR MORE PHOTOGRAPHS
You may examine the full set of postcards, all of which are available from our friends at The Folk Tree. As well, you can now purchase sweatshirts, tee shirts, mugs, and mousepads with selected images using your credit card at our on-line store. We hope to have a full set of 50 images available in the near future, so visit us again in 2001.